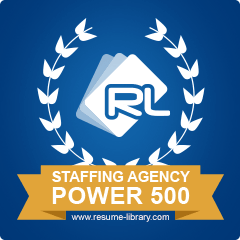 KNF&T's Marketing and Communications Department has a streamlined and effective social media strategy with the goal of expanding our reach and our audience through sharing relevant and interesting information to assist our clients and candidates in their search for the right fit.
On January 19th KNF&T ranked #270 on Resume Library's Staffing Agency POWER 500 list. As of today we have moved up in the rankings and are currently ranked at #257!
We look forward to continuing our move up on the list, but our main focus will always be to provide you with insight and knowledge that will help you reach your ultimate goal.
For more information on KNF&T Staffing Resources, please visit our website.